A MOU has been signed between Daegu and Pesaro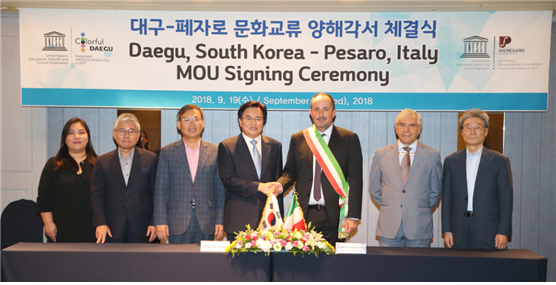 Daegu city and Italy's Deputy Mayor and President of the Rossini Opera Festival Daniele Vimini agreed to sign a memorandum of understanding for cooperation between the two cities to promote cultural exchanges at Novotel, Daegu. Through this MOU, both cities will achieve the mission and goals of UNESCO Creative Cities Network (UCCN) and promote cultural exchanges and cooperative projects between the two sides.
 
The closing ceremony was attended by Daegu City Vice Mayor Lee Sang-gil and Pesaro City Deputy Mayor Daniele Vimini including Ernesto Palacio, Sovrintendente of the Rossini Opera Festival; Han Mansu, Director-General of Culture, Sports, & Tourism Bureau of Daegu City; Bae Sunju, Representative of Daegu Opera House; Lee Hyungkeun, President of Daegu Concert House.